AIR QUALITY
Air Quality is the single most important issue facing communities, not just because of health, but because of the implications for untrammeled development. So whilst there is a need for housing, and the economic boost from development, it needs to be carefully planned to ensure it does not impact on the worsening Air Quality in our communities.

Tonbridge & Malling's Local Development Framework contains the below policy, but I don't think they realised how important it was soon to become.
6 Air Quality Planning Policies (extract)
Tonbridge and Malling Borough Council produced a Local Development Framework
in July 2009, which was formally adopted on April 20 2010. The Air Quality Policies
are detailed in the Managing Development and the Environment Development Plan
Document (MDE DPD):
..
Policy SQ4:
Development will only be permitted where all of the following criteria are met:
the proposed use does not result in a significant deterioration of the air quality
of the area, either individually or cumulatively with other proposals or existing
uses in the vicinity;
proposals would not result in the circumstances that would lead to the creation
of a new Air Quality Management Area;
proximity to existing potentially air polluting uses will not have a harmful effect
on the proposed use; and
there is no impact on the air quality of internationally, nationally and locally
designated sites of nature conservation interest or appropriate mitigation is
proposed to alleviate any such impact.
..
The reason this is so significant is that it appears that an Air Quality Management Area (AQMA) can require TMBC to seek to mitigate pollution , either by blocking development that could increase pollution, or to implement measures that decrease the traffic that causes the pollution.
.
Borough Green Parish Council were advised that measurements of Air Quality taken near the Red Lion in 2009 were at or exceeded EU limits if averaged over a year. For some reason this imminent AQMA appears to have "slipped through the net" and had not been included in the next survey. It would be churlish to suggest that TMBC didn't want an AQMA mucking up their plans for Isles Quarry Housing.
BGPC then tabled the below questions at the Parish Partnership Panel meeting on 1st March 2012:
..
What is the current position on Air Quality in the Borough, and in view of increasing traffic will that position be reviewed ?

Is there any likelihood of

areas exceeding limits and becoming AQMA's
Under the Localism Bill, fines for non-compliance with AQ limits devolve on the Local Authority. What financial impact will this have on T&M, and will there be a need to revisit the LDF where new development may push Air Quality above the prescribed limits.
..
We were given a detailed response from Officers and Members, and are awaiting copies. (now received below) It was announced that the whole Borough Green triangle of Sevenoaks Rd, Western Rd and the High St should be designated an AQMA within three months.
.
T&M feel it is unfair for the fines to devolve to them because they have no power to shift traffic patterns. (but they do have the power to stop development increasing Air Quality problems).
.
There will be a public consultation of the area affected before implementation, and the Parish Council will keep residents up to date.
The only reservation we have heard voiced is that an AQMA could affect property prices, but Officers assured us that nationwide surveys have shown that house prices are not affected at all.
..
..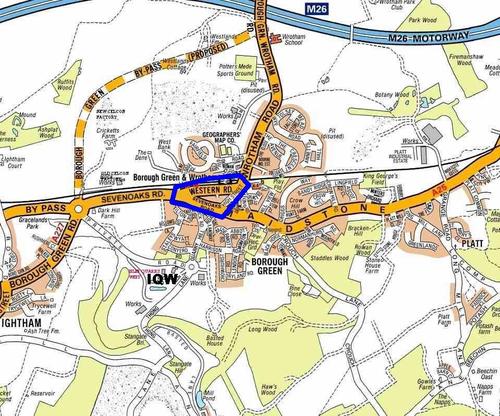 CLICK button for T&M Parish Partnership Panel meeting extract of minutes relating to Air Quality

CLICK button for PPP T&M Officer's respones to Air Quality questions