SKATEPARK
Whitegate Field Skatepark
The Skatepark Committee agreed with the results of a young people's survey and have installed a Youth Shelter at the Skatepark. Now completed with the help of those same young people, the shelter was officially opened By Rob Jones, Chair of the Skatepark Committee. The shelter is fitted with solar powered lights, and a solar and wind-up radio.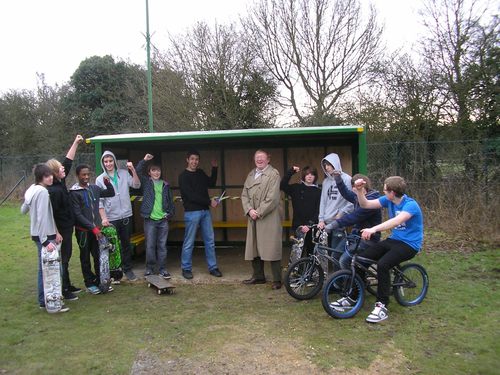 The Whitegate Field Skatepark was a Youth Project coordinated by Da Joint, and funded by the three Parish Councils of Wrotham, Platt and Borough Green. It was built by local people, young and old, and opened in September 2005. More info at http://www.diy-skatepark.com/ .
Picture below : Jimmy Ashby catches some air during one of the last sunny days of a fading summer, and below that the Summer Sakatecomp.