Public Footpath MR 244
Footpaths and PROW maps and pics
MR 244 Westlands to H+H Good Walk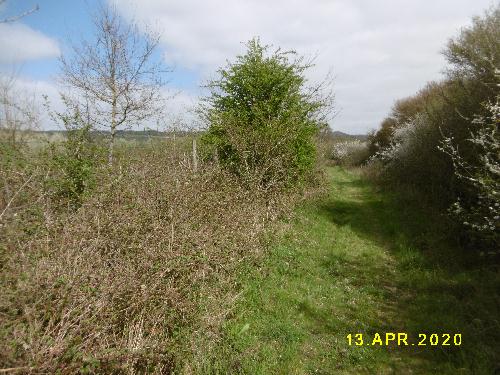 Public Right of Way MR 244 Return to Borough Green.gov Borough Green Community
Walk North out of Borough Green on Wrotham Rd, (A227), past Potters Mede and Wrotham School. Westlands Farm entrance on the left just before the M26 Bridge.
Head down the straight road until you reach the left hand bend. (If you wanted, MR299 starts just here on the right, follow the little wiggly path, and then head out across the fields, eventually you will come out on Fenpond Rd Ightham).
Back to MR244, after the left hand bend follow the lane between high hedges, until you see a field entrance on your right on a bend. Follow the top field hedge to the opening into the next field. Head out across this second field keeping slightly left of the large lone oak tree. You will start to glimpse the galvanised pedestrian gate in the hedge line directly ahead of you. Through the gate and across a small bridge, and MR244 turns to your left.
(If you wanted a diversion, there is a field gate directly ahead of you. This field is private land owned by Celcon, and is the field that holds both the foundation of our "lost" bypass, and the large hole that would have contained the second Celcon factory, but is now a beautiful rewided aspen and silver birch wood. If you had entered this private field, directly west of that gate is a large pond, worth a look. To get back on track, just follow the power grid lines south and you will meet MR244 again in O'Keefes back yard.)
If you had kept to MR244 it heads south between high hedges, with occasional views of the birch wood, Rober Body's landfilll and the North Downs.
After you pass the gate into the landfill site on your left, the path does a sharp right, though a kissing gate, and runs between O'Keefes yard (behing the bank) and sheep/horsefields (pics below).
It then turns left to run alongside the old Access road to Ightham Sandpit, picking up the O'keefe access road, coming out inder the Celcon Bridge to Darkhill roundabout, and the A245 Sevenaoks Rd.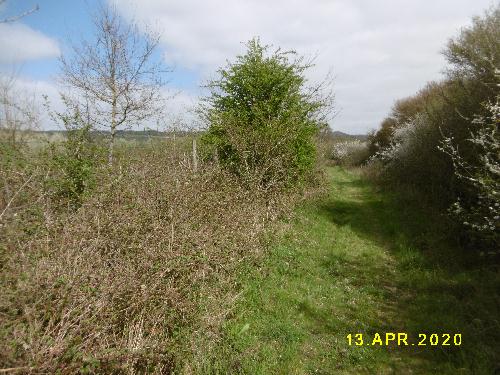 Above & below Path from Westlands farm to O'Keefes back yard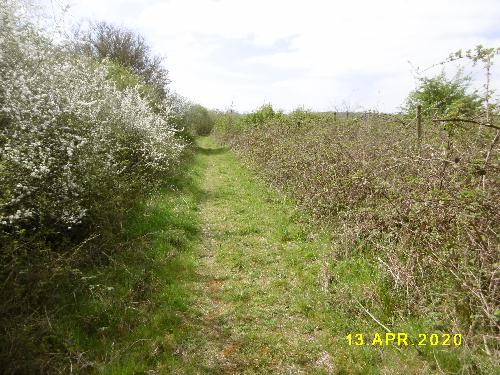 Below: looking north to the Downs from the O'Keefe section of path, with Ightham Sandpit birch wood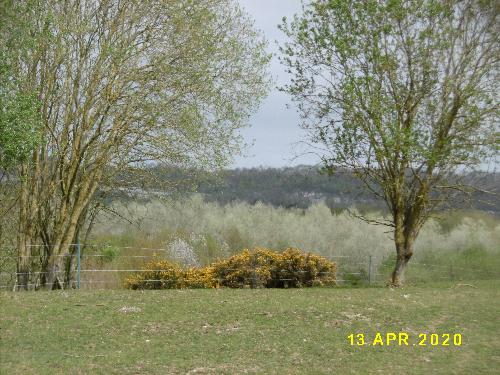 Below- two views of the sheep field