BOROUGH GREEN GARDEN CITY
The Sand Mafia raise their ugly heads again .........

You should all have received the latest flyer from the Borough Green Garden City cabal through your letterboxes, and apart from raising their dream to 3500 houses, not much has changed.
And the answers remain unchanged as well:
Whilst it is true that these are current and future mineral sites, they all have planning restoration requirements, which mean they should be viewed in the same light as virgin greenbelt- mineral permissions are temporary.
The "Relief Road" will carry so much new traffic that it will not provide traffic relief for Borough Green & Platt, and the size of the development will generate so much extra local traffic that it will have an adverse impact on the entire area, including the M20/M26 corridors. And they have conveniently forgotten TMBC are only looking at the Landfill site, not H+H land, so who will be funding the "Bypass", there won't be enough houses on the landfill.
The developer speaks of "provision for" shops and community use, so there is no intention to provide the necessary services.
We do not need a "country park", this is already valuable open country, wheether within the North Downs AONB, or within its environs, and BGGC will severely impact the AONB and the openness of the Greenbelt. We also have ample country parks in Basted Mill, Trosley CP and many smaller facilities in the villages.
The "need" for housing in this area has already been met by Isles Quarry and A-Z, and multiple smaller developments.
If we wanted to live in a city , we would move to London. 3500 is a huge number, but difficult to visualise, it is more houses than exist in Borough Green, Wrotham, Platt and Ightham altogether !!
The Parish Alliance, representing the residents of the villages of Platt, Wrotham, Ightham, Borough Green, Shipbourne and Platt, has already made its position on Borough Green Garden City abundantly clear.
Below: The entire scheme - it is a good indication that they don't want to waste too much money flogging a dead horse, which is why they have used Google maps rather buy a proper one.
Below: This map has been lifted straight from TMBC's main Plan, and you can see that even the money hungry planners at TMBC have only included the BG Landfill site in the scheme.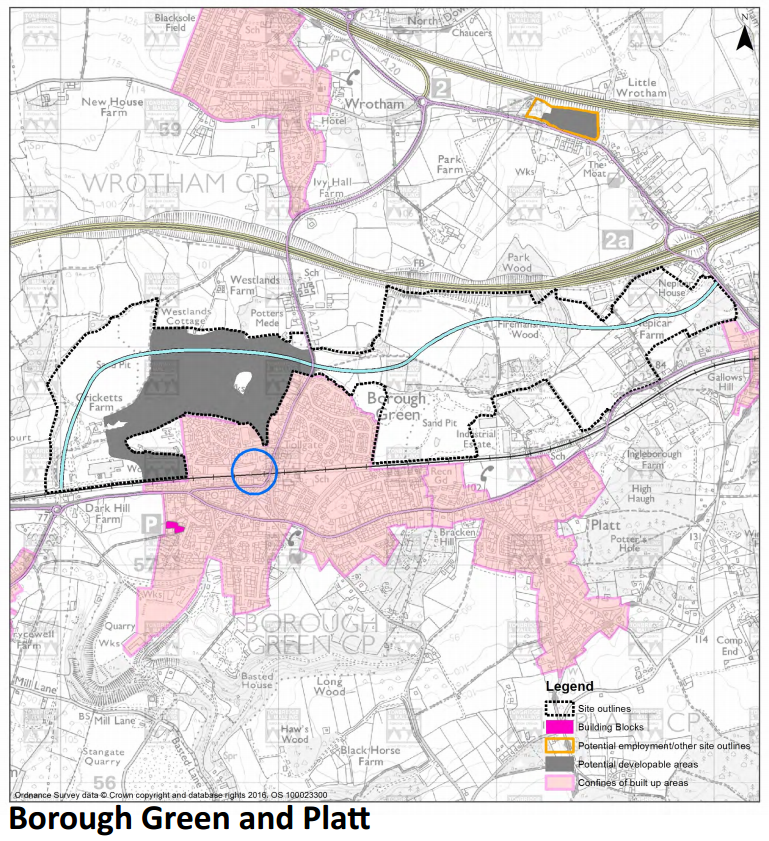 RETURN TO Community Website Home Parish Council Website Home