THE SMOKING GUN
This whole episode is an absolute scandal - Environmental Consultants GEI deliberately supplying misleading data, Crest passing on that data as proof, when they are the ones controlling the earthmoving, and were well aware how contaminated this site is, Planning Officers and T&MBC Members repeatedly ignoring complaints and warnings, and finally both GEI , and Sevenoaks Environmental, endorsing this site as safe.
These pictures are crucially important, they clearly show how Crest excavated the contaminated material from the Sentinel Workshop area, and buried it in the central housing area with only a single sample. They then attempt to build a Contamination Quarantine Bund that allegedly holds the contamination, but that was not built until afterwards. It was only by forcefully pushing this evidence, and the crucial sample dates, under Planners noses that they finally realised the "con", and this email on 10th October 2014 ( a year later) was the result. It is also worthy of comment that although excavation of the contaminated surface began in November 2013, it was 28th February 2014 before TMBC Scientific Officer Kirstie Parr visited the site.
If you give Crest's list of samples across the "002 Remediation Pan" a cursory glance it looks as if comprehensive sampling took place across the site. It is only when you compare dates and places you realise they took the samples after they had moved the contamination - so of course they look clean.
The Old Sentinel workshop and store, with the yard in front, surrounded by trees, in the top right of this 1988 pic.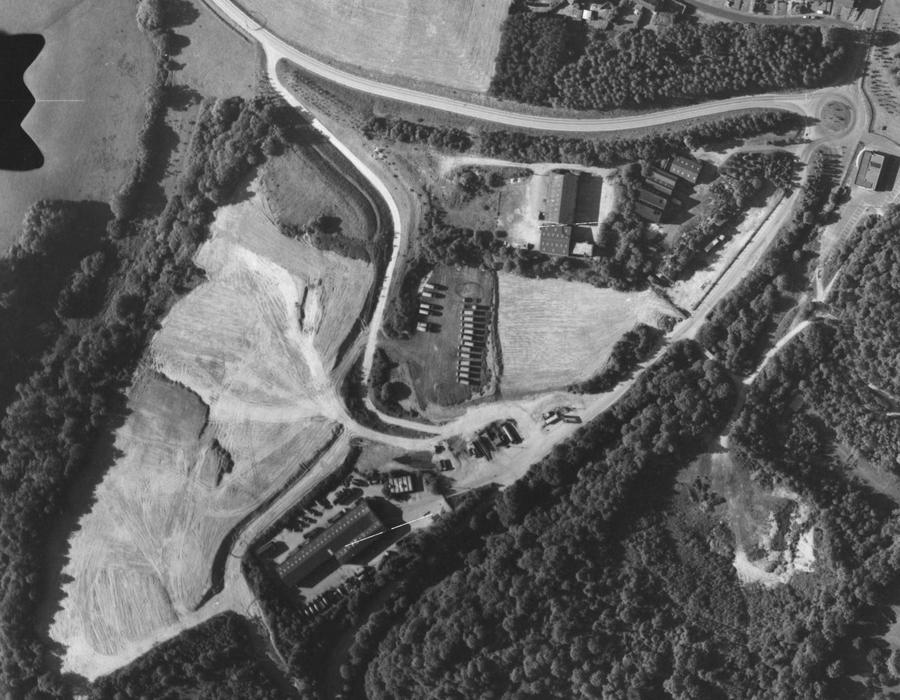 This 8th Dec 2013 picture below shows the area completely excavated, amd the material spread in the central area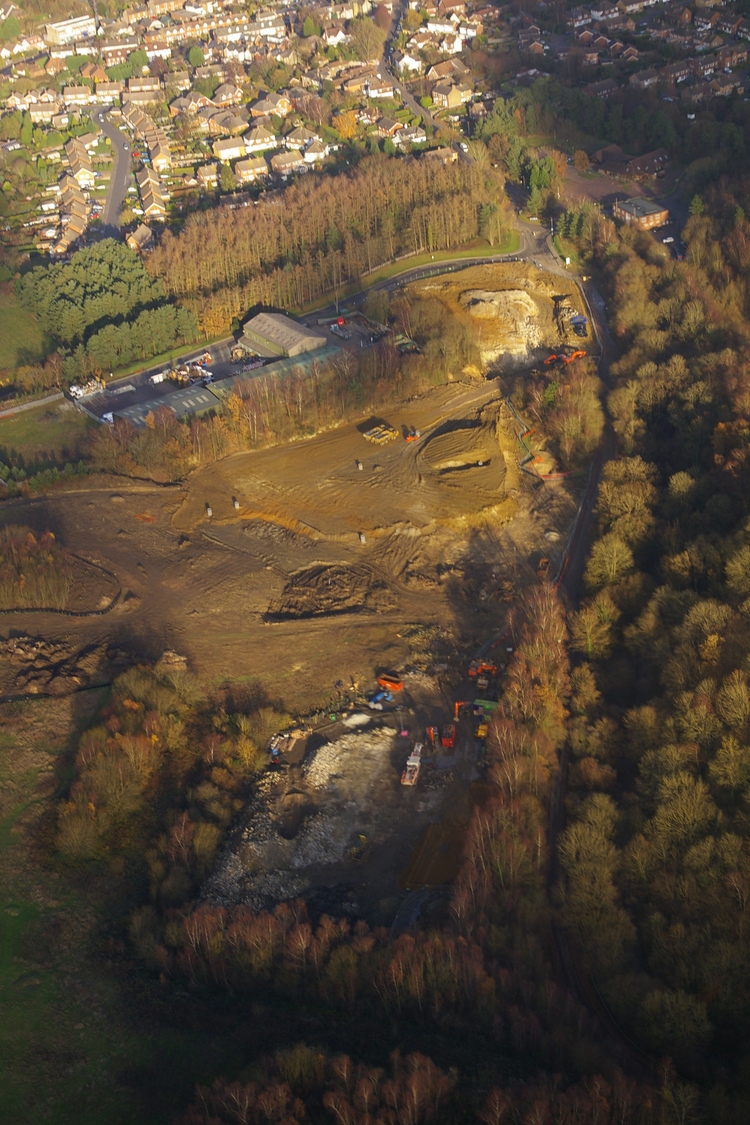 Below we can see very black material being spread in the Central Area on the 5th December, Crest's own pictures.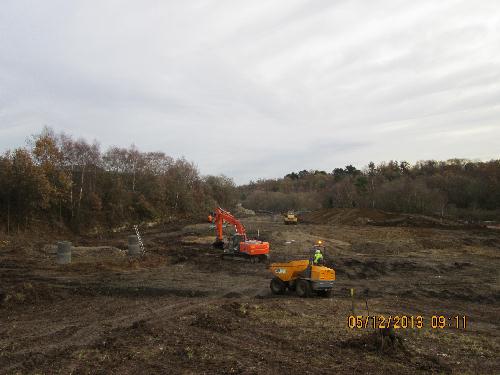 And below we can see the very black material has now been covered with clean material an hour later on the 5th December, and that is confirmed by our 8th December Aerial picture above.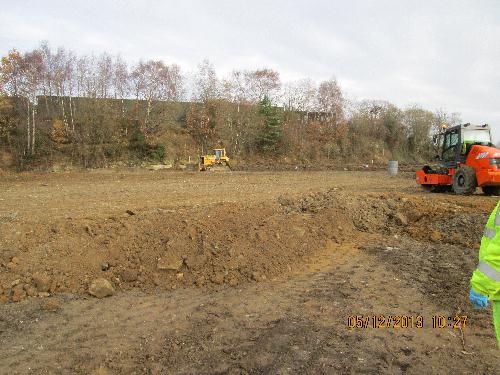 Again using Crest's own picture below shows a broken down excavator on the 5th, in the area Crest had claimed they had already built the quarantine bund for the contaminated material. ( it is possible, being generous, that the excavator broke down whilst starting to build the bund, but it was already 3 weeks too late)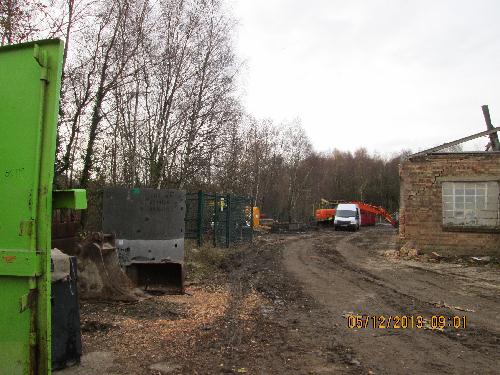 But as our aerial picture below shows, that quarantine bund was still being built on the 8th December, down in the right hand corner. Crest have tried to claim this was in use, but an "entrance" left open. If that were the case we should be able to see the plastic sheet on the floor, that is visible under the material in our pictures taken in March.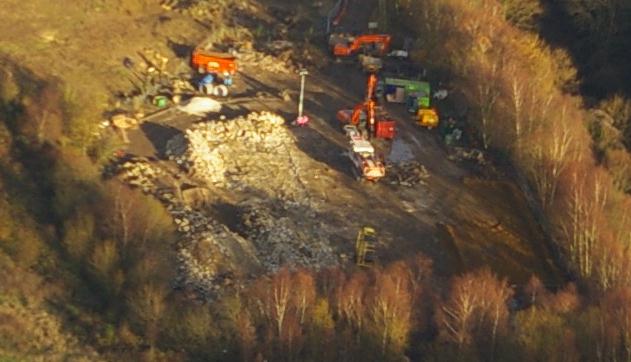 The plan below is an extract from Crest's own "002 Remediation Survey", and I have highlighted their sample place numbers. (Click the picture for a larger version). If you compare that with the sample dates on the table below, it is quite clear that Crest only ever took a single sample from the Workshop area in December, and that was outside the known contamination.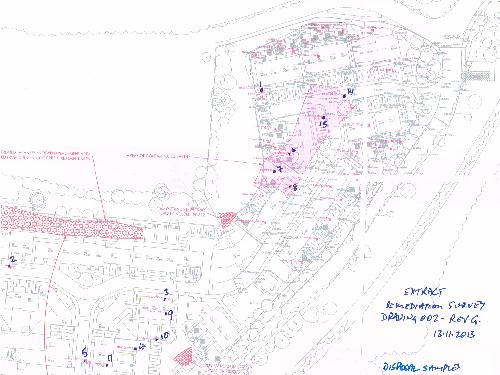 | | | |
| --- | --- | --- |
| Sampled | Sce | Ident |
| 22/11/2013 | Crest CD | BG1,BG2 |
| | | |
| 27/11/2013 | Crest CD | BG3, BG4, BG5 |
| | | |
| 2/12/2013 | Crest CD | BG6 |
| | | |
| 6/12/2013 | Russ Crest | BG 7,8,9,10,11 |
| | | |
| 17/12/2013 | Crest CD | BG13, BG14, BG15 |
| 18/12/2013 | Crest CD | BG12 |
Just for interest, here are two pictures I took on 28th March of the actual contamination quarantine bund, and you can clearly see the black plastic sheet that would have been visible in my aerial pictures if it had been built as Crest say in late November.