Isles Quarry Illegal Development
Isles Quarry West,
Crest Nicholson are building 171 houses called Hazlebourne on Isles Quarry, a severely contaminated and unstable 50s/60s landfill site. Good luck to all who live there.
[Read Main Planning Permission] pay special note to conditions 7 & 25
[Read Condition Planning Permission] [Read Officer's Report]
[Read BGPC's October submission] [Read BGPC's September submission]
One tiny snippet of good news in all this: two of the new roads will be named "Bangay Way" and "Isles Quarry Way"
| | |
| --- | --- |
| | Crest Nicholson began major groundworks at Isles Quarry on about 4th Nov 2013, but Planning Permission wasn't issued until the 21st: but fear not: our Planning Officers tell me this not development, it is "species related ecological investigation". So that's alright then, we needn't have worried. They really must take us for gullible bumpkins : who does "ecological investigations" with 20 tonne diggers? The amount of earth being moved they must be building setts for 7 tonne badgers, well known to be indigenous in Isles Quarry, due to many years of eating toxic waste. |
Crest Nicholson have already begun development at Isles Quarry in the shape of major groundworks and excavations. This view is across the main housing area from the Stangate Landfill access road, showing a digger at work, much of the ground already cleared, and spoil heaps evident. This is far beyond "ecological investigation", and an absolute violation of the Planning Permssion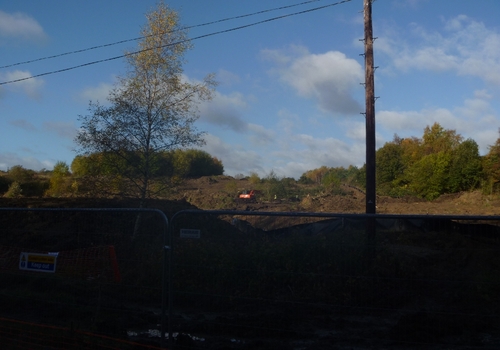 Below we see the southern end of the old filler plant, taken from near the Thong Lane Bridge. This area had been covered until these excavations began with contaminated material dumped illegally bt Hanson when the new access to Hornet was built: a complaint was lodged and acknowledged by KCC at the time, but a decision was held until this application went through.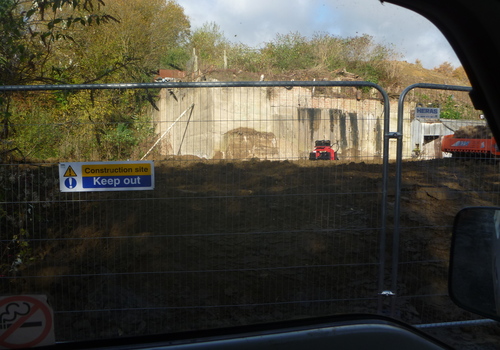 below is a picture showing how the whole of the central area has been cleared of vegetation and trees.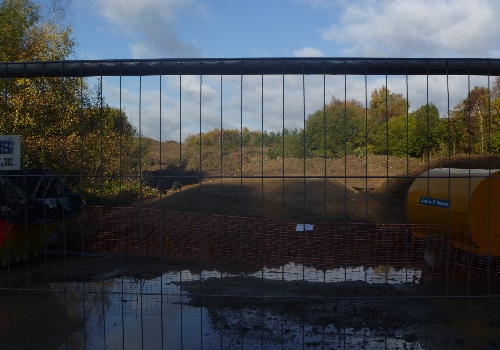 Below is a digger excavating more of the illegal Hanson waste, very near the entrance to the site by the roundabout, the site of the old tarmac plant and much contamination. As you can see from the height of the banks on the left, this isn't just scraping the ground, this is deep excavation.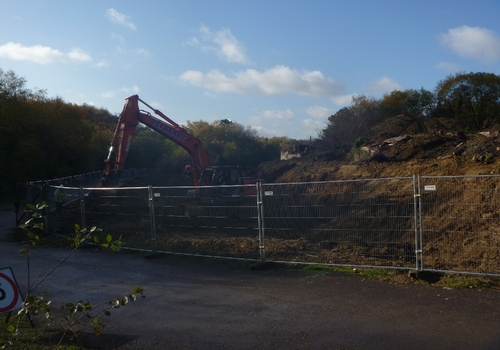 Here is yet another excavator at work demolishing the old Sentinel workshops adjacent to the Hornet site.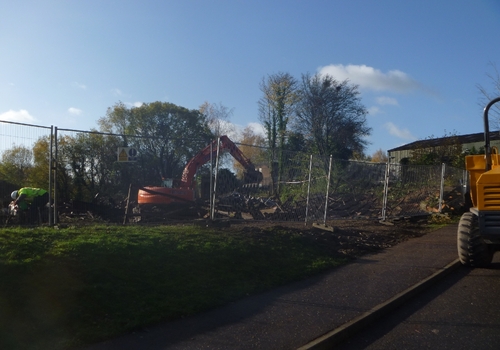 The picture below shows the demolition of the old skip factory: this can perhaps be justified by reasoning that they cannot investigate the ground underneath whilst the building and concrete pad are in the way: but they still haven't had the methodology approved.